It's 2017. You shouldn't have to worry about whether that old budget spreadsheet will open on your tablet or whether the document in your inbox will look right on your phone. In this day and age, having office apps that work seamlessly and consistently across devices should be a given. Everything should, as the cool kids say, "just work."
Yet here we are, in an era where mobile devices are as critical to productivity as desktop computers — and our virtual office tools are still anything but universal. Features that function smoothly on one product or platform don't always work the same on another. For business users in particular, that can be a serious problem.
I set out to determine which mobile office apps would ease the pain and make it as simple as possible for those of us who use Android devices — an increasingly significant segment of the business world, according to recent measurements by IDC. I tested a variety of Android office apps on both a Nexus 6P smartphone and a Nexus 9 tablet, both running the latest (7.1.1 Nougat) version of the Android operating system.
After an extensive period of real-world use, three contenders rose above the rest: Google's suite of mobile productivity programs (Docs, Sheets, and Slides); Microsoft's collection of Office-branded apps (Word, Excel, and PowerPoint); and MobiSystems' all-in-one OfficeSuite application (specifically the free-to-download OfficeSuite + PDF Editor app with an upgraded "premium" subscription).
Suffice it to say, a lot has changed in the short time since our last Android office app assessment.
The pricing breakdown
Before we get into the nitty-gritty, let's take a minute to break down the pricing — because there's a fair amount of saturated fat to digest.
We'll start with the most straightforward of the bunch: Google's Docs, Slides, and Sheets are free to use without restriction on an individual basis. For managed company plans, the G Suite (as it's now known) goes for $5 per user per month at the lower end or $10 per user per month for a more feature-rich enterprise setup.
Microsoft's Office apps are similarly free for individual-person use, though with some feature limitations. With Word, for instance, the free Android app doesn't allow you to track and review changes, alter page orientation, insert manual page breaks, or create custom headers and footers for different pages.
To get all of those features (along with a handful of others across Word, Excel, and PowerPoint), you'll need an Office 365 subscription: $7 to $10 a month for an individual plan or $8.25 to $12.50 per user per month for a business plan. Microsoft also offers more robust enterprise-level configurations starting at $12 per user per month.
MobiSystems' OfficeSuite app, meanwhile, is even more complex in its pricing: The main app is free to use, though with rather extreme feature limitations and the presence of obtrusive and annoying ads throughout the interface. In order to make the app more viable, you'll need to complete an in-app purchase of $3 a month or $20 a year to upgrade to the fully featured "premium" level. MobiSystems also offers business-grade licenses through its website at a cost of $4 per user per month.
As an alternative (ready for a migraine?), you can download the separate OfficeSuite Pro app for a one-time cost of $15. It includes most but not all of the significant features from the regular app's "premium" subscription, with conspicuous omissions of full Microsoft font compatibility and an integrated spell-check function. In order to add those functions into the package, you'll need to download two separate add-ons — priced at $9.99 and $4.99, respectively.
Got it? Good. Now let's get into the specifics — starting with Google.
Google Docs/Sheets/Slides
Google's mobile office suite is lean and mean, with a distinct focus on cloud-centric work connected to the Google ecosystem.
Word processing
Docs' no-frills interface makes viewing and editing documents easy as can be — as long as your needs are relatively basic. You'll have no trouble finding paragraph- and text-formatting options, spell-check and word-count functions, or commands for inserting simple tables into a page (though I do mean simple — don't expect options for styling the table, splitting or merging cells, or even shading rows).
The main document editor has unusual extras, too, like an Explore function that automatically looks up images and research related to topics in your document. Even on a phone — regardless of your Android version — you can view that info in a window alongside your work and insert snippets directly into your document.
What's missing, however, are more advanced word processing features that some business users may expect — such as custom bullet formatting, headers and footers, columns, and footnotes.
Docs uses its own proprietary document format by default, but you can view and edit standard Word files within the app, which for the most part, works fine. Formatting is generally retained, and I've had no issues making edits, then saving a document back in the standard DOCX format. Even documents sent to me with Microsoft's Track Changes formatting in place work flawlessly with Docs: I can review edits, accept or reject changes, and make my own edits within the usual Track Changes parameters. That wasn't possible with Docs on Android in the recent past (curiously, it still doesn't seem possible with the web version of the app).
One area where Google's apps excel is in the realm of sharing and collaboration: In Docs, you can export any document into a standard DOCX or PDF format and share it directly to email or any other app, but you can also invite anyone to view a document with a simple web link that'll work in any browser, without the need for any specific local software. If you want your colleague to be able to edit the document, it's simply a matter of checking one extra box in your sharing invitation.
As long as the person has a Google account, he'll be able to work on the file with you in real time — with any changes he makes showing up letter-by-letter on your screen as they're typed. Since Docs always syncs changes instantly and automatically, you can also access a document yourself from multiple devices simultaneously. As with the multiuser collaboration, your edits will show up in real time everywhere you're signed in.
Spreadsheet editing
Sheets, following Docs' lead, is fine for basic functionality but more limited when it comes to advanced elements.
To its credit, Sheets has become quite a bit better since our last analysis. The app now handles tasks like basic chart creation and cell freezing — items that were M.I.A. not long ago — along with core commands like cell merging, data validation, and all the usual mathematical functions.
For some users, all of that may be enough — especially when you consider the convenience of Sheets' cloud-centric approach and how effortless that makes it to move between multiple platforms and devices. Like Docs, Sheets is excellent when it comes to real-time collaboration.
But for folks who need next-level spreadsheet tools — advanced cell styling, sorting, the ability to insert images, or the ability to create a wider range of charts from your data — Sheets still comes up short. I also encountered instances where the app was unable to open certain XLS files, saying it did not support the format (despite the fact that the app did open other XLS files without issue). Those files included autogenerated company reports that had been sent to me within the past few months — so knowing Sheets can't handle them is a bit of a problem.
Presentation editing
Google's Slides app has gotten surprisingly decent for basic on-the-go presentation work. The formerly bare-bones app now has a diverse range of polished-looking plug-and-play themes and templates for professional presentation creation. It supports speaker notes, as well as image, shape, and text insertion and formatting.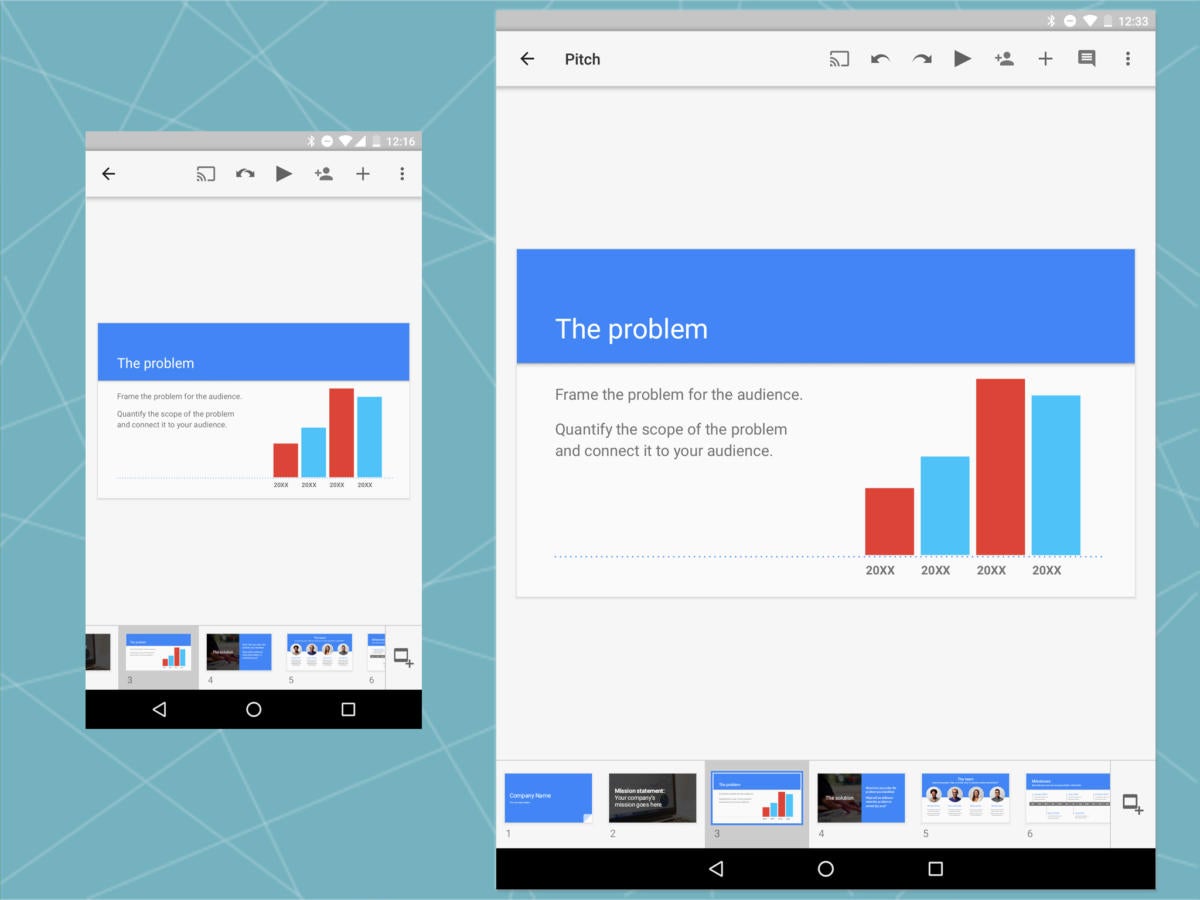 When you start a presentation, for instance, you can opt to play it locally or to cast it wirelessly to any Chromecast or Google Cast-compatible device. You can also choose to launch the presentation directly into a new video call or meeting in Hangouts.
Slides has a clever system for audience interaction, too: Its optional Q&A feature puts a public web link at the top of your presentation. Anyone watching can then pull up that link to ask or vote on questions, which then appear on your device for you to address.
Microsoft Word/Sheets/PowerPoint
If we were to issue a "Most Improved Android Office Suite" award, Microsoft's latest creation would absolutely take the cake. Microsoft was inexcusably late to the Android party, and its early efforts at Android-based productivity apps were embarrassing at best. Even in our last assessment a year and a half ago, the apps suffered from a baffling lack of polish — which, for Microsoft in particular, was rather hard to forgive.
But man — the company sure has come a long way in a short amount of time.
Word processing
No two ways around it: Microsoft's current Word Android app is an absolute pleasure to use. Longtime Office users will be delighted with its familiar feel, while Office newbies will be won over by its simple yet feature-filled user interface.
On a tablet, the entire toolbar moves to the top of the screen, and the various sections appear as permanent tabs — a user-friendly touch that makes a lot of sense, given the extra screen space. Who would've thunk? Microsoft is actually leading the pack when it comes to thoughtful adaptive design.
In terms of features, Word has practically everything you could want in a mobile word processor — a robust set of tools for formatting and styling text, tables, and images along with all the other elements you'd expect from Word on any platform. Many elements that were inexplicably missing in our mid-2015 analysis, like a native autosave function, are now present (though keep in mind that some features, as mentioned above, are limited to paid subscribers).
The only asterisk is the potential for collaboration — which was missing altogether in 2015 and is now present in theory but not entirely functional in reality. I've tried numerous times to collaborate on a document in real time with two different accounts, one signed in on Android and another on a desktop, and the system does not work consistently. More often than not, the Android side fails to update changes; as a result, neither party ends up seeing the other's work (or at best, ends up seeing it only after a significant delay).
On the plus side, Word handles local files as easily as it does those stored in its own OneDrive cloud service or even third-party services like Dropbox or Google Drive. It's completely seamless to shift between the Android Word app and the Word app on any other platform; file fidelity is never anything you'll have to worry about in this product family.
| InfoWorld Scorecard | Features (50%) | Usability (25%) | Interoperability (25%) | Overall Score (100%) |
| --- | --- | --- | --- | --- |
| Google Docs/Sheets/Slides | 7 | 8 | 6 | |
| Microsoft Word/Excel/PowerPoint | 9 | 9 | 10 | |
| MobiSystems OfficeSuite | 8 | 4 | 7 | |
Source: Info World